ATAF-SOUTH CENTRE BRIEFING FOR DEVELOPING COUNTRY MEMBERS OF UN TAX COMMITTEE
Thursday, 31 March 2022, 15:00 – 17:00 CET, Virtual meeting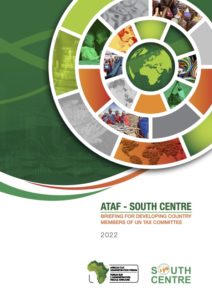 Event details
The South Centre and the African Tax Administration Forum (ATAF) seek to increase the ability of Global South tax officials, particularly from Africa, to participate actively in international standard setting fora, including in the United Nations Tax Committee, the OECD, and other bodies.
To further this objective, the South Centre and ATAF are co-organizing a series of closed technical briefings in collaboration with experts from the Global South as well as allies in the Global North. These are primarily for the developing country members of the UN Tax Committee. Tax officials from the Global South are also invited so they can be better aware of the issues in international tax standards and their implications for developing countries.
Le South Centre et le Forum sur l'Administration fiscale africaine (ATAF) cherchent à accroître la capacité des agents fiscaux des pays du Sud, en particulier d'Afrique, à participer activement aux forums internationaux sur l'établissement de normes, notamment au sein du Comité fiscal des Nations Unies, de l'OCDE et d'autres organismes.
Pour atteindre cet objectif, le South Centre et l'ATAF organisent conjointement une série de séances d'information techniques à huis clos en collaboration avec des experts du Sud mondial ainsi qu'avec des alliés du Nord mondial. Ces séances sont principalement destinées aux pays en développement membres du Comité fiscal des Nations Unies. Les fonctionnaires fiscaux du Sud sont également invités afin de mieux connaître les enjeux des normes fiscales internationales et leurs implications pour les pays en développement.
O Centro Sul e o Fórum Africano das Administrações Tributárias (ATAF) procuram aumentar a capacidade dos funcionários da Global South Tax, particularmente os de África, para participar activamente em fóruns internacionais de definição de normas, incluindo no Comité Fiscal das Nações Unidas, na OCDE, e em outros organismos.
Para promover este objectivo, o Centro Sul e o ATAF estão a organizar em conjunto uma série de briefings técnicos fechados em colaboração com peritos do Sul Global, bem como com aliados do Norte Global. Estes são principalmente para os países em desenvolvimento membros do Comité Fiscal da ONU. Os funcionários fiscais do Sul Global são também convidados para que possam estar mais cientes das questões das normas fiscais internacionais e das suas implicações para os países em desenvolvimento.
Image gallery of the event